 05/Dec/2023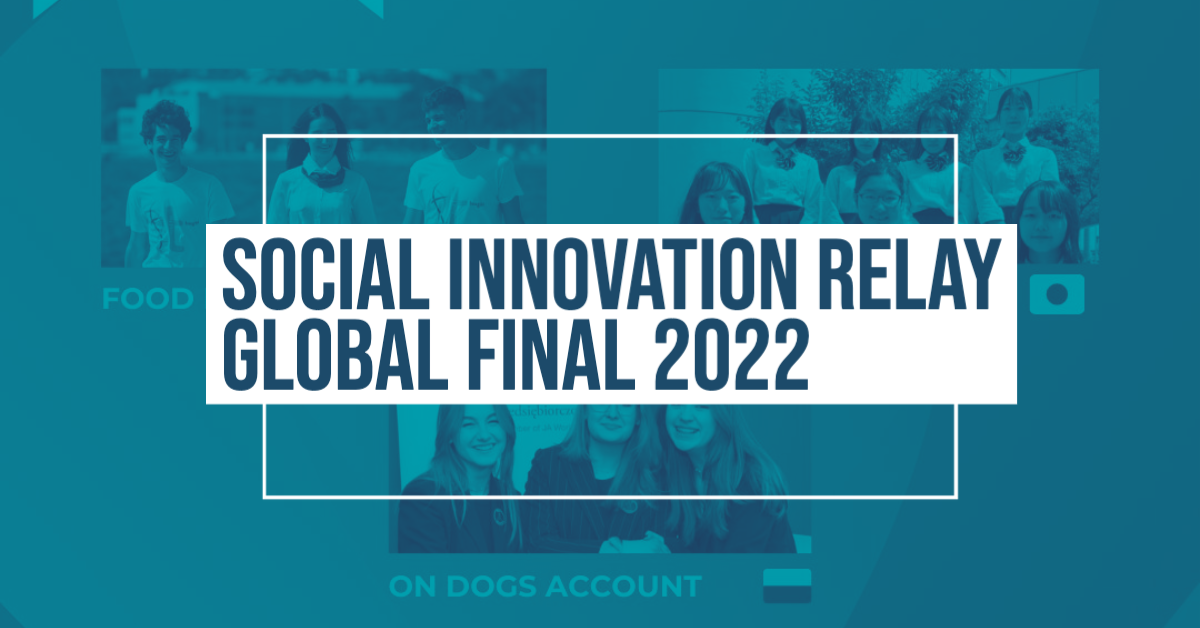 ---
22 June 2022
Can businesses thrive without social innovation? Since 2015, JA Europe and NN Group have been working together to empower young people with a wide range of work readiness and financial literacy skills while, at the same time, tackling societal challenges by using innovation and entrepreneurship.
Yesterday, 35 students from 9 countries1 showcased their business solutions addressing social challenges at the Social Innovation Relay (SIR) 2022 Global Final, organised fully online.
The 2022 jury was composed of Rosario García Crespo, Community Investment Programme Manager, NN Group; Gulsah Turutoglu, Corporate Communication Executive, NN Turkey; Edward de Jager, Serial Entrepreneur and Venture Capitalist, Unknown Group; Alberto Terenzi, Cross-KIC Education Cluster Manager, EIT RawMaterials; and Cornel Amariei, CEO, .lumen.
Teams "Food For Thought" from Greece, "Rerucup" from Japan and "On Dogs Account" from Poland came up with the most innovative ideas that combined societal impact with market potential, in an event that marked the culmination of the Social Innovation Relay. The programme helps secondary students think and act like social entrepreneurs, giving them access to the latest technologies and showing them that starting their own business can be a viable career choice. Congratulations to all participants and especially the three winning teams who will be travelling to Tallinn on 12-14 July for the Gen-E 2022 European Entrepreneurship Event!
About "Food For Thought" from Greece
With a mission to help address the agri-food challenges of the future, Food for Thought expands the world's dietary options and proposes the production of a unique highly nutritional product, namely the flour from the larvae of the flour worm (Tenebrio molitor).
About "Rerucup" from Japan
To solve the problem of waste caused by 14 billion disposable Bento sups annually. the team has developed 'RERUCUP'. Rerucup is edible and made from oranges, water, vinegar, and Scoby solution. Scoby is an elastic, thin membrane formed during fermentation by bacteria and microorganisms such as acetic acid bacteria, lactic acid bacteria, and yeast.
About "On Dogs Account" from Poland
On Dogs Account deals with the processing of masks and worn fabrics into fillings for beds, blankets and animal toys.
"It is impressive to see the quality of the projects. The Social Innovation Relay shows us that this generation of students is more conscious of social and environmental impact than we were at their age. They really want to make a change and are aware that business IS not only about profit anymore, but about adding value in a sustainable way, while contributing to the well-being of people and the planet", said Fleur Hudig, Head of Corporate Citizenship NN Group.
"Social innovation is clearly becoming a priority in business, especially for the #Gen_E youth", said Salvatore Nigro, CEO JA Europe. He added: "Today organisations have to show their relevance for the society as a whole, if their business is to thrive and grow. As a proof of this, last year's winners of the JA Europe – NN Group Social Innovation Relay won the JA Europe Company of the Year Main Award, as well as the Global De la Vega Entrepreneurship Award 2021. I look forward to JA students scaling their social innovations at the European and global levels and to meeting the best teams in Tallinn for #Gen_E 2022 European Entrepreneurship Event."
Going forward, the partnership between Junior Achievement and NN Group will increasingly focus on youth with limited opportunities with the aim of facilitating their transition into employment by enhancing their employability.
About JA Europe
JA Europe is the largest organisation in Europe dedicated to preparing young people for employment and entrepreneurship. JA Europe is a member of JA Worldwide® which for 100 years has delivered hands on, experiential learning in entrepreneurship, work readiness and financial literacy. JA creates pathways for employability, job creation and financial success. Together we work in 41 countries in Europe, offering 4 million learning experiences every year in core programmes and inspiring millions more through online events and activities.
About NN Group
NN Group is an international financial services company, active in 11 countries, with a strong presence in a number of European countries and Japan. Our roots lie in the Netherlands, with a rich history that stretches back over 175 years.
With our 14,000 employees, NN provides retirement services, pensions, insurance, banking and investments to approximately 18 million customers. NN Group includes Nationale-Nederlanden, NN, ABN AMRO Insurance, Movir, AZL, BeFrank, OHRA and Woonnu.
---